Introduction
The passenger infotainment system is the mainstream in todays' railway system development; the railway operation needs to meet the new regulatory requirements and high passenger expectations for quality service. The passenger infotainment system offers the combination of traditional passenger information, such as destination or next stops, with location-based or time-based information, such as connection information at stations or traffic-related news, and any other type of media such as advertising or general news t to keep passengers well-informed and entertained while in transit.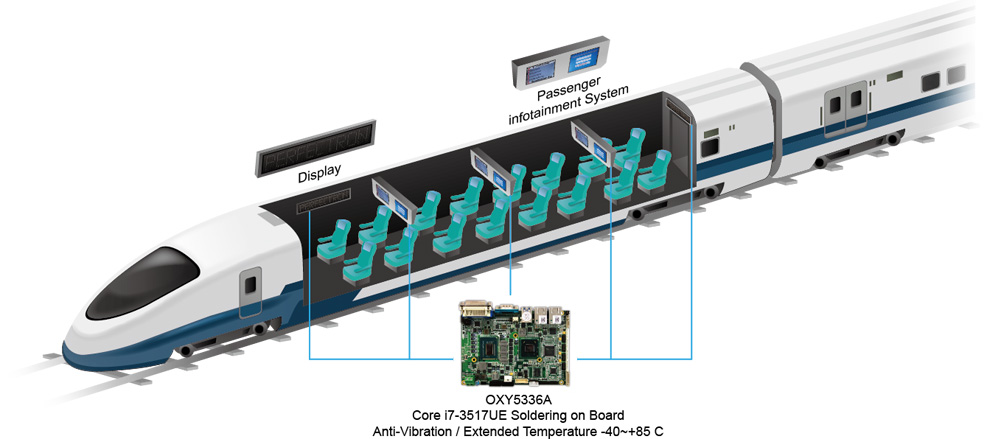 Requirements
To make sure the passenger infotainment system is operating stable and the data transmission is working without time delay, the system must have the good ability of anti‐vibration resistance while train is moving, non-stop operation under temperature shock from ‐30 to +60°C, flexible video capturing interface through VGA, DVI, LVDS, and space saving to integrate in mechanical case on the train.
PERFECTRON's Solution
PERFECTRON's OXY5336A 3.5 SBC is based on Intel® Ivy Bridge HM76 chipset and supports onboard soldering BGA CPU Intel® core i7/i5/i3, to use the soldering type processor can provide the high efficiency for heat conduction, low-inductance leads and maximum resistance to shock and vibration. PERFECTRON uses only industrial grade components that pass strict standards on vendor selection, extended temperature operation, ruggedness specification, reliability and durability. It can fully support the extended temp. range from -40°C to 85°C and provide users with the choice of excellent high-performing board without the worry of system temperature overloading. The OXY5336A also features the a rich array of I/O interfaces and extensions, with two gigabit Ethernet ports by RJ45, multi-display VGA, DVI, 18/24-bit dual-channel LVDS interfaces, two USB 3.0 ports on the Rear I/O and eight USB 2.0 ports by the pin header, one COM for the RS232/422/485, three other COMs for RS232 by the pin header, two SATAIII( 6Gb/s), one Mini PCIe, one mSATA, 8-bit DIO (4 in/4 out). It enables the convergence of multiple subsystems, so the passenger infotainment system can integrate the railway route data, media broadcast system, LED displays, and train information to give passengers both audio and visual update about the status of the train. Furthermore, the OXY5336A offers superb graphic performance via its Intel® HD Integrated Graphic 4000 Graphics Engine, clear video HD technology, dual independent full HD display, rapid storage technology, and a VGA resolution maximum of 2048 x 1536. These advantages make the OXY5336A a great solution for image identification.
Product Highlights
1.Advantage of Soldering

​

​High efficiency for heat conduction

​   Low-inductance leads

​   Maximum resistance to shock and vibration
2.Extended Temperature

​

​   Design with Wide Temp Grade Components

​   With wideband extended temp. testing

​   -40°C to 85°C operating temperature support
3.Multi-communication Interface

​

​   10 x USB 2.0

​   4 x COM Port (1 x RS232/422/485, 3 x RS232)

​   2 x Gigabit Ethernet Port

​   1 x mPCIe with SIM card holder

​   1 x mSATA (co‐lay with mPCIe)
4.Flexible Display Outputs

​

​   VGA + DVI

​   DVI + LVDS

​   VGA + LVDS