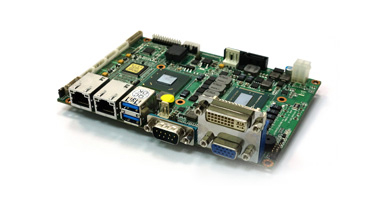 Supports Intel® Ivy Bridge BGA CPU
Multi display: VGA, DVI-I, LVDS
Supports dual channel 24-bit LVDS
1 x Mini PCle
1 x mSATA
4 x COM ports
10 x USB ports
Wide operating temp. -40 to 85°C
OXY5336A 3.5" SBC uses onboard BGA type processors, supporting Intel® Core i3 3217UE (2C x 1.6GHz, 17W), Core i5 3610ME (2C x 2.7GHz, 35W), and Core i7 3517UE (2C x 1.6GHz, 17W) processors and supporting SO-DIMM DDR3 1333 MHz for up to 8 GB memory, all while measuring a mere 146mm x 102mm (5.7" x 4") in size. With the exception of PERFECTRON's wide temperature design range of -20 to 70°C (-40 to 85°C optional), it features a rich array of I/O interfaces and extensions, with two gigabit Ethernet ports by RJ45, multi-display VGA, DVI, 18/24-bit dual-channel LVDS interfaces,  two USB 3.0 ports on the Rear I/O and eight USB 2.0 ports by the pin header, one COM for the RS232/422/485, three other COMs for RS232 by the pin header, two SATAIII( 6Gb/s), one Mini PCIe, one mSATA, 8-bit DIO (4 in/4 out), and one parallel port on board by the pin header. Its uses 12V DC-in power supplied by a 4-pin ATX power connector through an AT / ATX mode, optional for Terminal Block power connector.
---
Critical Components Soldering Onboard 

To achieve high standard of shock and vibration demand, OXY5336A was designed with components soldering onboard including CPU and PCH. This not only enhances the conductivity for circuit dissipation but also improves the robustness of motherboards. Benefits of soldering:
• High density 
• Heat conduction
• Maximum Resistance to Shock and Vibration 
• Lower resistance and inductance at the connection
• Better and more predictable high-frequency performance
• High EMC compatibility (lower radiated emissions) and the smaller lead inductance
 

Extended temperature support -40°C to 85°C

OXY5336A is a model born for extreme temperature environments by proven outstanding operation performance under crucial conditions. Powered by Intel® 4th generation Core™ i7/i5/i3 processor, it survives an extended market-leading operating temperature range of -40°C to 85°C without processor throttling (reduced frequency) and continuously presents superior high performance.
---
 

Multi Display Support (VGA/DVI/LVDS)

The OXY5336A fully supports flexible display outputs thought VGA, DVI and LVDS for multi-monitoring application. These improve not only the graphics display but also enhance the user experience when it comes to images and in projecting it to other platforms. The rich input/output support in the OXY5336A meets the requirements necessary for embedded applications in industrial automation, multi-media and digital signage applications.
Superb Graphic Performance and High Speed Data Management at Low Power Consumption

The OXY5336A is a powerful palm-sized board equipped with the newest generation chipset Intel® Ivy Bridge HM76. It offers superb graphic performance via its Intel® HD Integrated Graphic 4000 Graphics Engine, clear video HD technology, dual independent full HD display, rapid storage technology, and a VGA resolution maximum of 2048 x 1536. These advantages make the OXY5336A a great solution for digital signage and image identification applications, and its BGA processors function under lower power consumption with PERFECTRON's particular passive thermal solution, providing users with the choice of excellent high-performing board without the worry of system temperature overloading. The OXY5336A uses AMI UEFI BIOS for operating system management, allowing for much higher efficiency in deploying storage space and managing system resources. It also provides one SIM card holder on the bottom side of the board for 3G module usage. Moreover, the TPM feature will help on security conscious applications.