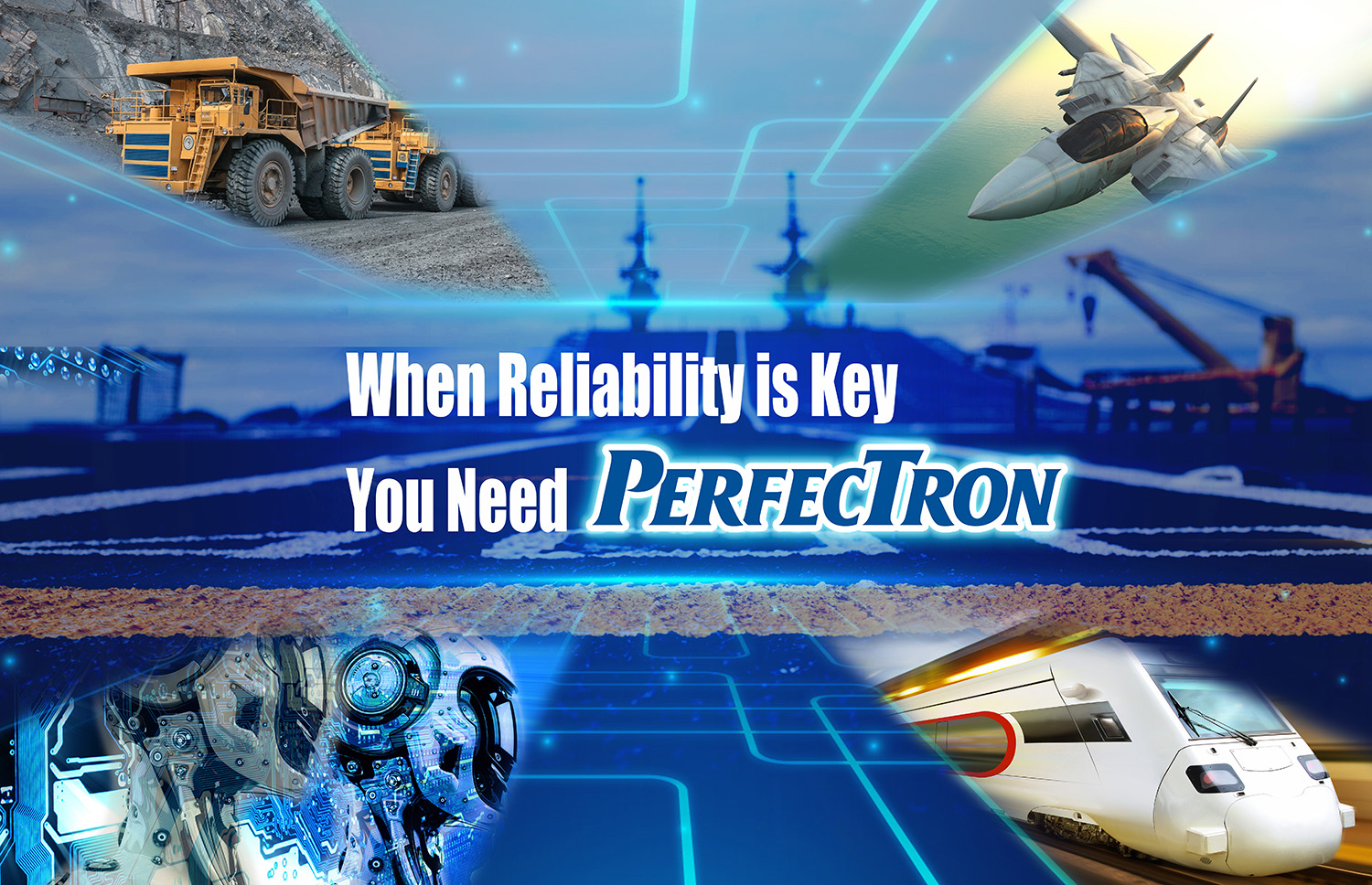 PERFECTRON specializes in the field of high-end industrial computer. Our R&D team, with years of developing experiences, has managed to think outside the box and breakthrough the barrier of existing form factors and design methods. We dedicate ourselves to the production of high quality motherboards and rugged fanless systems that can function in harsh environments with the threats of extreme temperatures and high levels of shock & vibration. Our products are widely applied in different vertical markets such as high-end automation, transportation, offshore energy exploration, defense, and real time surveillance control systems. Detail oriented and full of experimental ideas, PERFECTRON R&D team has strived to provide market-leading products of excellent performance and high reliability.
Time and again, our solutions have proven to win the trust and admiration of worldwide system integrators and end-users. So far, we've managed to reach customers of different fields from all over the world. Our international business partners include Thales, SAGEM, General Dynamics, and TRIMBLE. Tendering projects concerning the field of transportation with Eurostar and other government organizations are also in process. For industrial automation market, we keep in close contact with Siemens and NEC. To meet the rigorous requirements of mission critical applications, PERFECTRON presents you with four main technologies.
---
Extended Temp. Development Principles
Standing at the forefront of the rugged embedded market, PERFECTRON emphasizes profoundly on the ability to achieve top-level specification. For applications that require extended operating temperature range (-40 to 85℃), PERFECTRON is confident to guarantee a reliable and supreme solution. To begin with, all the selected components have verified their stability and sustainability through our Wideband Temperature Operation tests. The series of tests are conducted to ensure that all components are of authentic industrial grade.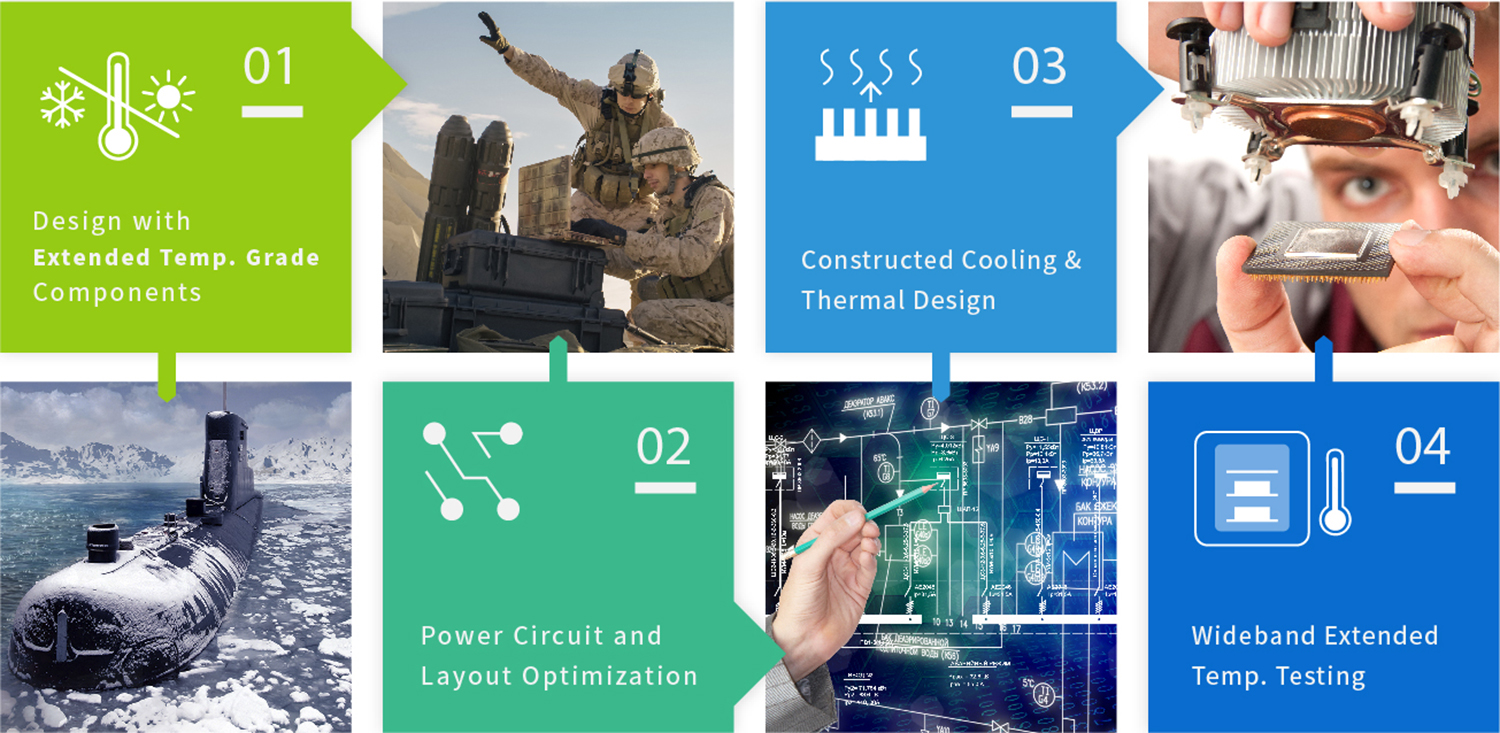 ---
Thermal Dissipation Concepts
Usually the processor is the main heat producing part, but chipset and regular parts can also generate a significant amount of heat. Therefore, the processor and chipset should be as low power as possible. To remove heat from the back surface of the die at the top of the processor package is a key part of the design. PERFECTRON's compact but effective fan-less design, through the incorporation of copper heat pipes and High & Low heat sink structure, is capable of dissolving 80% of the heat. As the most common heat-transfer device available, heat pipes can manage the transfer of heat between two solid interfaces effectively. Combining the advantages of thermal-conductivity and phase transition, heat pipes are extremely light-weight compared with traditional cooling methods.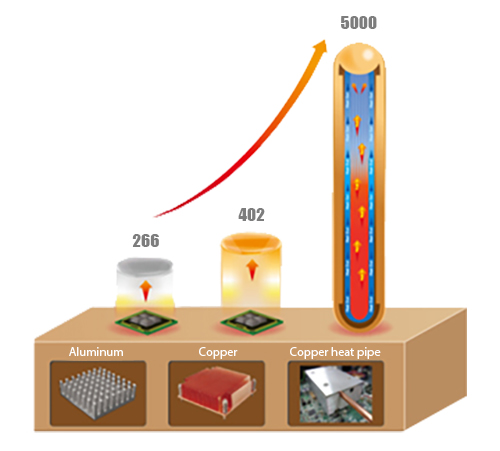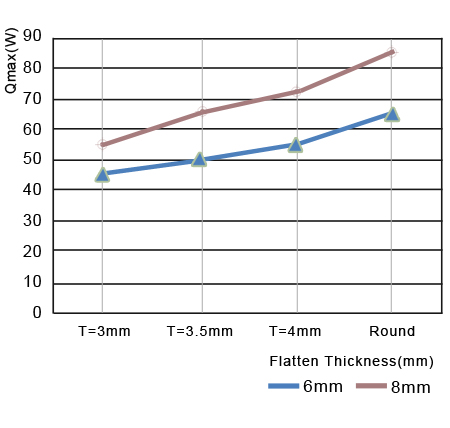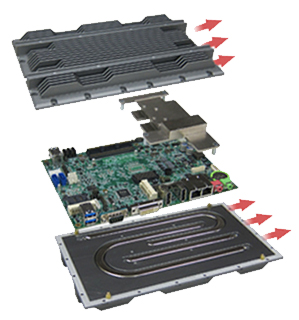 Following our core principle, PERFECTRON incorporates only the best of the best materials. Copper heat pipes offer high effective thermal conductivities, and is considered the most reliable cooling method. We understand that with just a single material; neither can Aluminum, with its thermal conductivity being 266, nor can Copper, 402, bring out the extraordinary result of a copper heat pipe, of which the conductivity can hit as high as 5000!
Thicker heat pipes with 8mm diameters are also applied to provide even higher efficiency in heat dissipation PERFECTRON's mechanical design puts heat distribution, system orientation, surface emissivity and hot spot into consideration. Even under crucial conditions, our products can run full speed at +70℃ without CPU throttling!
---
MIL-STD-810G – Achieving Ultimate Resistance to Shock & Vibration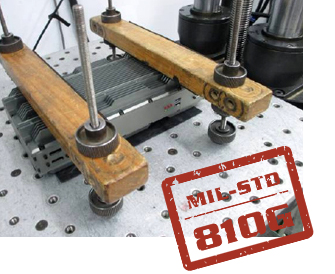 Unprecedented Invincibility and utmost reliability are synonymous with PERFECTRON's SR series rugged systems. When it comes to true ruggedness, MIL-STD-810G standard is considered the upmost principle, which is originally established by the US government to simulate how materials would hold up to harsh environments. The whole set of testing procedures for resistance to shock, vibration, dust, humidity, and extreme temperatures. All the key components are soldered onboard to eliminate the risk of harm caused by vibration; this design enhances the resistance to shock & vibration and eliminates the concern about failed connection caused by sudden impact. Not only compliant with but surpassing the strict standard, PERFECTRON MIL-STD related products are ready to meet all the unforeseeable rugged challenges!
---
StackPC Guide-Stackable Ruggedness Possesses Extreme Flexibility
The StackPC Specification defines new approach to stackable systems design and development. The specification includes all valuable heritages of PC/104 standards along with the new features of StackPC connector. PERFECTRON offers flexible options in terms of I/O requirements as well as different industrial applications. By utilizing onboard PCIe/104 and FPE expansions, users can instantly access to a variety of features and simply build up an exclusive system based on users' own requirements to cater diverse industrial usage. PERFECTRON has developed storage module, expanded LAN module and PSU module that supports full compatibility with other off-the-shore products in the market. This combination allows minimizing the number of wired connections inside the stack system enclosure and gives more design and manufacturing flexibility. The stackable rugged solutions are suitable for vertical market such as defense, aerospace, marine and transportation.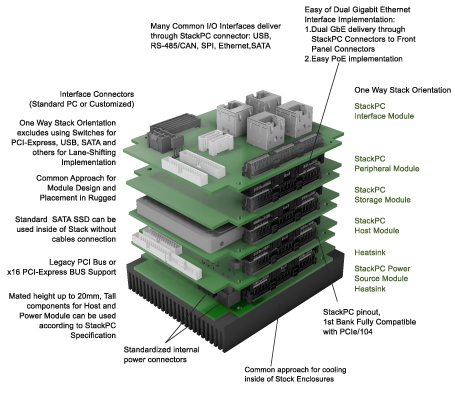 Lead the Way with Innovative Solution As an expert solution provider, PERFECTRON is active in constructing innovative and to the point products. We are always ready for a brainstorm! Sharing our experience and providing comprehensive assistance are crucial to us. Don't hesitate to contact us if you are keen to discuss your comments or enquiries.
---
Standard Verifications
To achieve smooth operation in harsh environment, the ability to withstand vibration as high as 5grms, 30~50G of shock is indispensable. These environmental disturbances are to be conquered with the toughest design and components. PERFECTRON's products undergo environmental testing to guarantee reliable performance under a variety of conditions, such as mechanical shock, extreme vibration, temperature shock, and power interruptions. 

For railway application, EN50155 classification is deemed the supreme standard. Our RC product line (RC100/RC200), specifically designed for mass transportation purpose, is in accordance with the class limits. The criteria fulfill customers' demands on the following domains.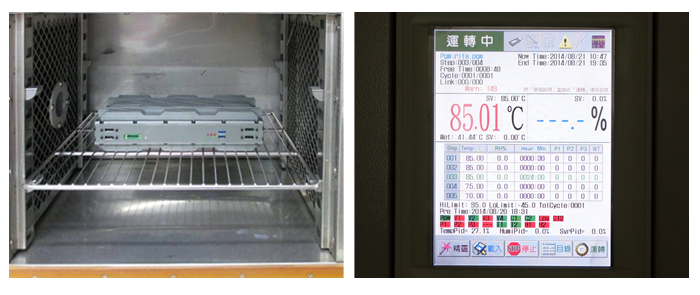 • Reliability and sustainability (Long MTBF)
• Endurance for extreme temperature, shock, vibration
• Consistent performance
• Compliance with Electromagnetic Interference Requirements
• Compliance with Mechanical Requirements (IEC 60068-2-1 & IEC 60068-2-2)
• Compliance with Temperature/Humidity Requirements (-40℃~85℃)
---
Certification
For defense and military applications, Perfectron's extreme rugged SR series products(SR100, SR200, SR700) are tested in accordance with MIL-STD-810G standard. Below are the testing methods, 
Test Specification:
Shock Test (Operating)
Wave Form: Sawtooth Wave
Acceleration: 20g
Duration Time: 11mS
No. of Shock: 3 times (Each axis)
Shock Direction: ±X, ±Y, ±Z axis
Supreme quality is verified by the comprehensive tests we conduct during production and before delivery. Our boards and systems are compliant with the following standards.
• EN50155 compliant
• CE/FCC
• IEC 60068-2-1 compliant
• IEC 60068-2-2 compliant
• MIL-STD-810G, Method 507.5 (Temperature & Humidity)
• MIL-STD-810G, Method 514.6 (category 20 & 24, 3G vibration)
• MIL-STD-810G, Method 516.6 (Mechanical Shock, 40g)
• MIL-STD-810G, Method 501.5 (Storage@ high temperature, 85℃)
• MIL-STD-810G, Method 501.5 (operation@ high temperature, 85℃)
• MIL-STD-810G, Method 502.5 (Storage@ low temperature, -40℃)
• MIL-STD-810G, Method 502.5 (operation@ low temperature, -40℃)
• MIL-STD-810G, Method 503.5 (Temperature Shock, -40~85℃)