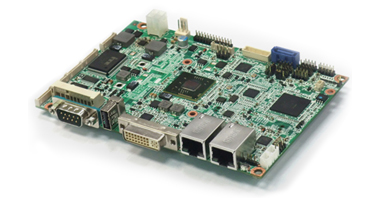 Supports Intel® Atom™ D2550 CPU onboard
Single/dual channel 18/24-bit LVDS
1 x Mini PCIe
5 x COM ports
7 x USB ports
1 X DVI-I (DVI-D + VGA)
12V DC-in
2X RJ45
Wide operating temp. -40 to 85°C
OXY5321A 3.5" SBC is designed with Intel® Atom™ D2550 processor onboard and supporting SO-DIMM DDR3 up to 4GB memory. It presents high performance with low-power consumption around 10 watts. OXY5321A supports multiple I/O ports including 7X USB, 5X COM and one Mini PCIe socket to satisfy the needs of wide variety of markets and application. It has a CFast™ interface and along with Gigabit LAN ports for efficient network connectivity.
---
Critical components soldering on board

To achieve high standard of shock and vibration demand, OXY5321A was designed with components soldering onboard including CPU and chipset. This not only enhances the conductivity for circuit dissipation but also improves the robustness of motherboards. Benefits of soldering:
• High density
• Heat conduction
• Maximum Resistance to Shock and Vibration
• Lower resistance and inductance at the connection
• Better and more predictable high-frequency performance
• High EMC compatibility (lower radiated emissions) and the smaller lead inductance
Extended temperature support -40°C to 85°C

OXY5321A is a model born for extreme temperature environments by proven outstanding operation performance under crucial conditions. Powered by Intel Atom™ D2550 processor, it survives an extended market-leading operating temperature range of -40°C to 85°C without processor throttling (reduced frequency) and continuously presents superior high performance.
---
Dual display support (LVDS/ DVI)

OXY5321A support flexible display outputs through LVDS and DVI. As the first generation of Atom processors has integrated DVI for high graphics performance and exhibit 4x the graphics performance compared to the previous generation. OXY5321A is ideal for digital signage, automation and transportation application.