Introduction
Refer to public transportation, the event recorder is very important. And for train system, it's usually used in surveillance and recording the surroundings of train carriages, in order to make sure the driver and people in the controlling room can make immediate action to any accident status or to analyze and clarify the actual situation after the incident. So, to use Perfectron industrial computer system is the best option for almost 24 hours non-stop application.
Requirements
To provide best solutions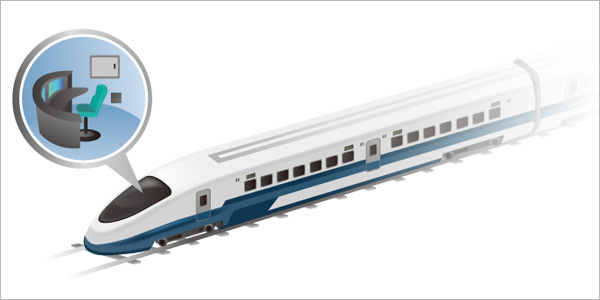 for requirements of an Event Recorder System, it should consider the operating environmental conditions at first. In order to decrease machine problems might be caused from dust on fan, and to higher resistance of vibration & shock while in a train trek, the fan-less and rugged design are basic equipment. And due to high efficiency of data recording, a specific memory and storage module is also vital. For purpose of instant information transmitted by cameras from train carriages and platforms to controlling room, it must need Ethernet and M-12 type LAN ports to prevent signal transmission and cable losing problem when the train is running upon vibration. The driver should need Mic-in/out ports to communicate and record sound-message to control room for all driving safety monitoring function. To keep current-flow stable and to prevent sudden damage from surges, the system should be required of power supply of wide range with ignition delay on/off. A long-distance train might run through different temperature environments, the system should even bare huge difference in temperature within 24 hours, like sunny at day and snowy at night, so feature of wide temp supporting is necessary.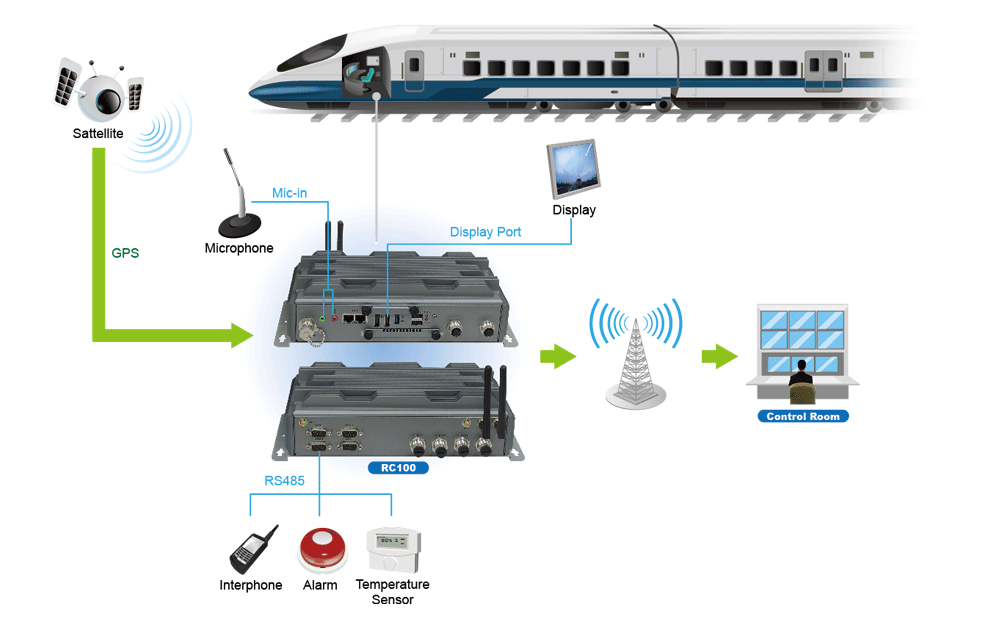 PERFECTRON Solution
PERFECTRON's RC100 is made for train event recorder application, which has fan-less rugged design with Intel 4th Gen. Bay Trail CPU, rugged type memory module XR-DIMM and 32GB NAND SSD soldering onboard. By above mentioned also with special damper design, RC100 has proven to withstand high standard shock and vibration under operating condition. Another key feature for fan-less system is the stable performance under high temperature. By high efficient thermal design, RC100 can achieve CPU full speed running under wide range temperature from -30 up to 70°C thus can ensure the communication and security onboard.
When talk about the power integration with train system, RC100 supports wide power voltage range from 9V to 36V DC-in so can simplify power voltage adaption process with main power supply; also RC100 has the function of power ignition delayed on/off controlled by software, thus presents advanced protection for sudden input surge from damaging the system.
One of key features is that users can utilize RC100's four LAN ports to do real-time video transmitting, two by auto-sensing 10/100/1000 Mbps ports by RJ45 connector, and other two by MIL-STD M12 type connectors which providing the most solid connection with cameras.
Regarding to event recording and monitoring real-time image from carriages, RC100 has two audio channels for conductor to announce or converse with attendants via one microphone-in and one speak-out. With the optional video recording modules, RC100 can conduct video record, play back and real-time play with H.264 format. The build-in two DisplayPort then can support digital video output for conductor to monitor and react with urgent accidence.
For more interfaces, RC100 has four RS422/485 ports enable to work with multi sensors like temperature, interphone, etc. RC100 also equipped with four antennas, two mPCIe expansion slots and one SIM cardholder which can support WWAN module also built-in communication modules like GPRS, HSDPA, CDMA and WLAN for wireless networking.
---
RC100 High-Light
High Resistance of Vibration


CPU soldering Onboard

   Onboard uSSD SATAIII 32 GB

   XR-DIMM 4 GB RAM
Real Time Video/Audio Streaming


Mini PCIe Supports 4 channels

   Supports streaming recording video format for H.264

   Video recorder for surveillance system
---
Extended Temp Tolerance


Operating Temp. -40 to 70°C (ambient with airflow)

   Storage Temp. -40 to 85°C
Multi-Communication Interface


   4 LAN ports (2 x M12 type)

   4 Antenna holes reserved for GPS/GPRS/WWAN/WLAN

   Support Wi-Fi Module/3G Module

   2 Microphones, supporting 4 independent channels
---
Power Management


   AT/ATX mode supports with power delay on/off by 8 Levels

   Support S3/ S4 suspend mode