PERFECTRON Launches PER335A – Ivy Bridge Quad Core™ i7 Fan-less Rugged System at +70°C without CPU Throttling
Main features with 9V to 24V DC-in, extended temperature -40 to 70°C, Dual Intel® GbE LAN ports, VGA/DVI/HDMI dual independent display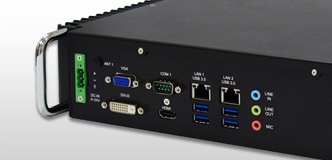 PERFECTRON PER335A powered by the quad-core™ Intel® Core™ i7-3610QE (Ivy Bridge) is compatible with Intel's 3rd-Generation Core™ family of mobile mainboards and is designed to maximize processing power in demanding applications. The system is built and designed to survive in crucial environments with extreme cold and heat; thus, it is able to satisfy all demands in industrial fields. With the vapor transports heat technology in heat pipes, it is the best heat dissipating solution in embedded system. Outstanding and reliable performance to this fan-less system in varies applications, and it survives +70°C without processor throttling under 2.3GHz clock speed high performance. The system,PER335A meets the demand of industrial embedded applied computing applications including digital signage, automation, medical, surveillance, transportation and military.
PER335A, Core™ i7 Fanless Operating at +70°C Without Processor Throttling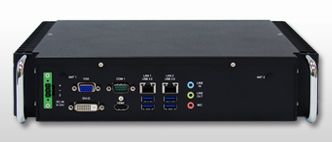 PER335A, a model born for extreme temperature environments by proven outstanding operation performance under crucial conditions. Powered with Intel® Ivy Bridge Quad Cores i7-3610QE (45W), it survives +70°C without processor throttling (reduced frequency) and continually presents superior 2.3GHz clock speed high performance. Thus PER335A is proven to be the perfect model for customers who need sophisticated thermal design for excellent computing in high temperature and great stability in thermal shock condition.
Advanced Thermal Technology and Rapid Heat-Dissipationy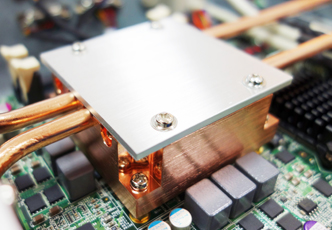 The PER335A's thermal solution designed with copper plus aluminum heat sink and 4 copper vacuum tube liquid-vapors (Heat-Pipe) which have high efficiency for heat dissipation. The rugged mechanical structure improves the cooling efficiency to secure PER335A maintains superior computing performance as customers desired.
Advanced Heat Pipe Thermal Solution
PERFEVTRON ensures that the computer systems we develop remain stable even in high temperature environments. Compared with the majority of companies using solid conductors such as aluminum, copper, graphite and diamond which have thermal conductivities ranging from 250 W/m•K to 1,500 W/m•K. PER335A applies copper vacuum tube liquid-vapors (Heat-Pipe) which have effective thermal conductivities that range from 5,000 W/m•K to 200,000 W/m•K to effectively transfer heat from the heat source (evaporator) to the heat sink (condenser). This advanced thermal solution enables PER335A to operate in a torrid environment without processor throttling.
Industrial Grade Handle Meets Ergonomics Design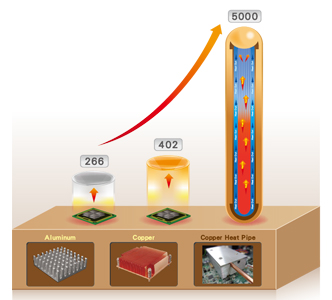 With solid indestructible system mechanical design, PER335A also consider user friendly as essential factor. From special rugged chassis design, PER335A is equipped with industrial grade handles that meets ergonomically method for easy installing and moving.
Rubber Foot Stands Design to Prevent Collision
Based on Perfectron's rich experiences in usage understanding, we consider each using scenario for customers deeply. In PER335A, there are four rubber stands in front to protect front I/O and power switch from collision.

Features:
•Supports Intel® 22nm Ivy Bridge Processor (Mobile, rPGA988)
•2 x DDR3 SO-DIMM up to 16 GB
•Supports 2 x 2.5" SATA HDD/SSD
•5 x COM ports (3 x RS232, 2 x RS232/422/485)
•4 x USB 3.0 / 4 x USB 2.0
•Dual Intel® GbE LAN ports
•VGA/DVI/HDMI (dual independent display)
•9V ~ 24V DC-in (by terminal block)