Intel® Core™i7-9700TE Processor, 120W NVIDIA® GPU ( Optional), 4 x 802.3 at Gigabit PoE via M12, 4-CH isolated DI and 4-CH isolated DO, 1 x PCIex16 Slot, 2 x 2.5'' SSD, Multi Display, 9V to 48V DC-in, Nvidia GTX1660 Graphics Card supported
Intel® Core™ i7-9700TE Processor (8 cores ,3.8Ghz)
120W NVIDIA® GPU (Optional)
4-CH isolated DI and 4-CH isolated DO
4 x 802.3 at Gigabit PoE via M12
Nvidia GTX1660 Graphics Card supported
Up to 64GB DDR4-2666 SDRAM
1 xPCIex16, 2 x 2.5'' SSD
Multi Display : HDMI/DVI-I/DP
6 x LAN (4 x PoE RJ45 or M12), 6 x COM, 8 x USB
Wide Range 9V-48V DC-in
Operating Temperature 0°C to 50°C (Optional: -20°C to 60°C)
Technical Profile
Specifications
CPU Performance
Introduction

From ADAS to full Level 5 autonomy, with a special focus on artificial intelligence, machine learning, sensors, the computing unit handles the main control for the self-driving vehicles, such as converting throttle input to torque requests, safety systems monitoring, control loops, and power limiting. Therefore, Autonomous Vehicles (AV) could contribute to making future mobility more efficient, safer and cleaner.

 

 
How Autonomous Vehicle Works

Sensors are key components to make a vehicle driverless. Camera, radar, ultrasonic and LiDAR enable an autonomous vehicle to visualize its surroundings and detect objects. Cars today are fitted with a growing number of environmental sensors that perform a multitude of tasks. The control system integrated sensors for AV encompasses three parts: perception, decision and execution.

01. PERCEPTION LAYER

Perception enables sensors to not only detect objects, but also acquire and eventually classify and track objects surround.

02. DECISION LAYER

Decision-taking is one of the most challenging tasks that AVs must perform. It encompasses prediction, path planning, and obstacle avoidance. All of them performed on the basis of previous perceptions.

03.EXECUTION LAYER

Execution layer consists of interconnection between accelerator, brakes, gearbox and so forth. Driven by Real-Time Operating System (RTOS), all these devices can carry out commands issued by Driving Computer.

 

 
Required High Performance Computing Power

7StarLake GPGPU Series

An automated-driving control unit is the core controller of autonomous vehicles. 7Starlake has designed high performance GPGPU computer to EASYMILE to achieve the most advanced driverless shuttle – EZ10 . EZ10 has been launched in 2015 and operated over 26 countries and up to 200 sites, including Asia, Middle East , North America and Europe. EZ10 has no steering wheel, gas pedal or brake pedal, being 100% driverless. Relative to normal cars, hardware accelerators, such as GPUs , CPU and FPGAs are extremely important to autonomous vehicles for handling computation-intensive tasks.

 

 
System

 

CPU

Intel® Core™ i7-9700 (12M Cache up to 4.7GHz) 65W

Intel® Core™ i7-9700TE (12M Cache up to 3.8GHz) 35W

Intel® Core™ i7-8700 (12M Cache up to 4.6GHz) 65W

Intel® Core™ i7-8700T (12M Cache up to 4.0GHz) 35W

Memory type

2 x SO-DIMM up to 64GB DDR4-2666MHz

Chipset

Intel® Q370/C246 Platform Controller Hub

Display

 

Graphics Card

NVIDIA GTX1660 supported

Storage

 

HDD/SSD

2 x 2.5" SSD

Ethernet

 

Ethernet

1x Intel® i210IT Gigabit Ethernet 1x Intel® i218LM Gigabit Ethernet Optional : 4 x PoE RJ45 (Intel i210-IT) Port 4 x PoE M12 (Intel i210-IT) Port

Rear I/O

 

Serial

4 x DB9 connector (RS232/422/485)

DI/DO

8-bit Isolated Digital I/O (4 x DI, 4 x DO)

Ethernet

4 x PoE RJ45 or M12 (Optional)

HDMI

1 x 19Pin HDMI1.4 connector (Female), resolution up to 3840x2160@30Hz

USB

2 x USB3.0

Storage

2 x 2.5'' SSD

Front I/O

 

Expansion

1 x PCIex16

Audio

1 x Mic-in, 1 x Line-out

Terminal Block

1 x 2Pin Terminal Block Remote Power ON/OFF

1 x 2Pin Terminal Block Remote Reset

1 x 4Pin Terminal Block External FAN Connector

1 x 3Pin Terminal Block Power Input

Serial

2 x DB9 connector (RS232/422/485)

Ethernet

2 x RJ45 Gigabit Ethernet Interfaces (10/100/1000Mbps)

USB

4 x USB3.0, 2 x USB2.0 

DisplayPort

1 x 20Pin DisplayPort connector (Female), resolution up to 4096x2160@60Hz

DVI-I

1 x 20Pin DVI-I connector (Female), resolution up to 2560x1600@60Hz

Power Requirement

 

Power Input

DC-In 9V-48V

Applications, Operating System

 

Operating System

Windows 10 64Bit

Ubuntu14.04, Fedora 20/23, RedHat Linux EL 7.1/7.2

Physical

 

Dimension (W x D x H)

250x130x264.2mm (WxHxD)

Weight

6.75kg (14.88 lbs)

Chassis

SECC + Aluminum Alloy, Corrosion Resistant

Finish

Anodic aluminum oxide (Color Iron gray and Black)

Cooling

Natural Passive Convection/Conduction. No Moving Parts.

Environmental

 

Reliability

No Moving Parts; Passive Cooling. Designed & Manufactured using ISO 9001/2000 Certified Quality Program.

Operating Temperature

0°C to 50°C, optional: -20°C to 60°C

Storage Temperature

-40°C to +85°C

Ordering information

 

CPT330B

Rugged IOT Edge Computer with Intel® 9th Gen. Core i7 CPU

PCIex16 Expansion

8 x USB, 2 x COM, 2 x LAN, 2 x 2.5'' SSD

9V to 48V DC-in

Operating Temp. 0°C to +50°C

CPT330B-ET

Rugged IOT Edge Computer with Intel® 9th Gen. Core i7 CPU

PCIex16 Expansion

8 x USB, 2 x COM, 2 x LAN, 2 x 2.5'' SSD

9V to 48V DC-in

Operating Temp. -20°C to +60°C

Additional options

 

Nvidia GTX1660 Graphics Card

 

Ethernet Expansion Module

Option 1: 4 x Gigabit Ethernet (RJ45)

Option 2: 4 x Gigabit Ethernet (M12)

Option 3: 4 x Gigabit PoE (RJ45)

Option 4: 4 x Gigabit PoE (M12)

COM Expansion Module

4 x RS232/422/485 with isolated DIDO (4 x DI, 4 x DO)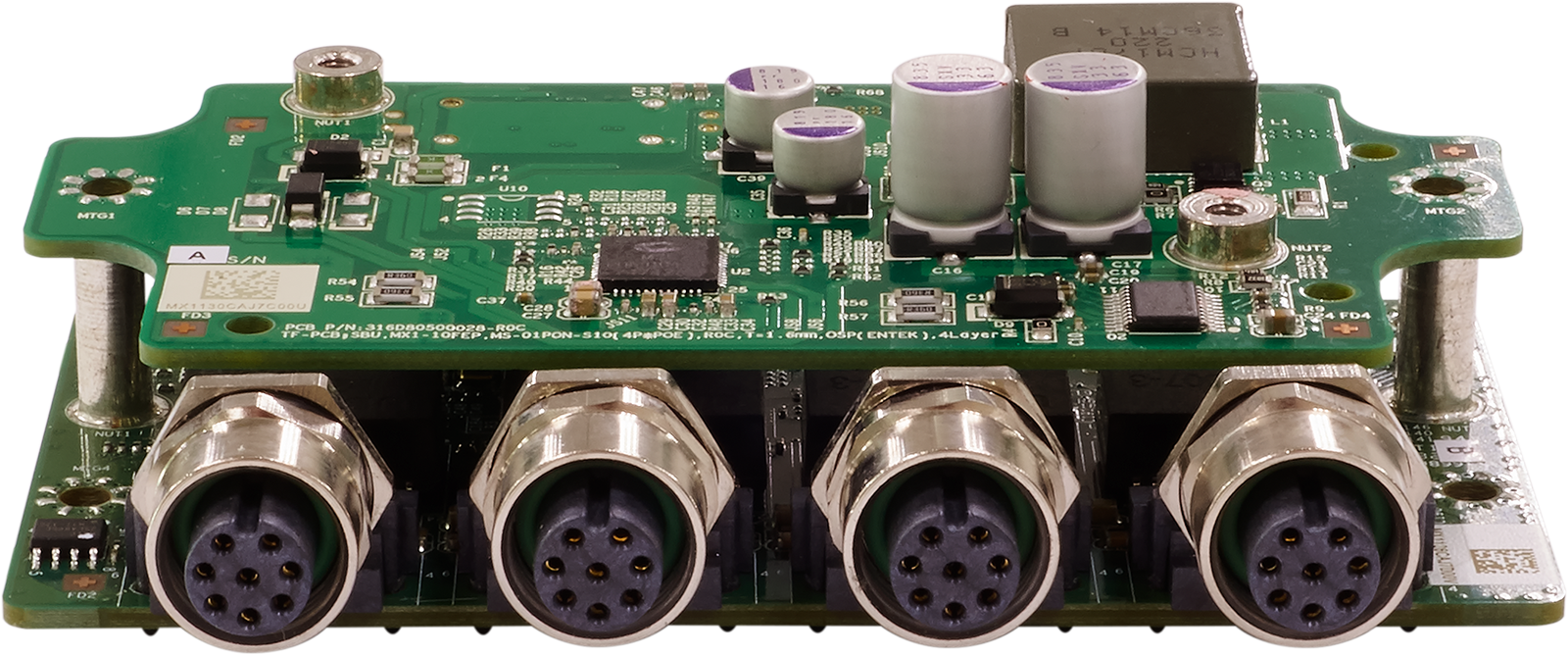 4 x PoE (RJ45 or M12)

4 x RS232/422/485 with isolated DIDO (4 x DI, 4 x DO)

4 x RJ45 LAN ports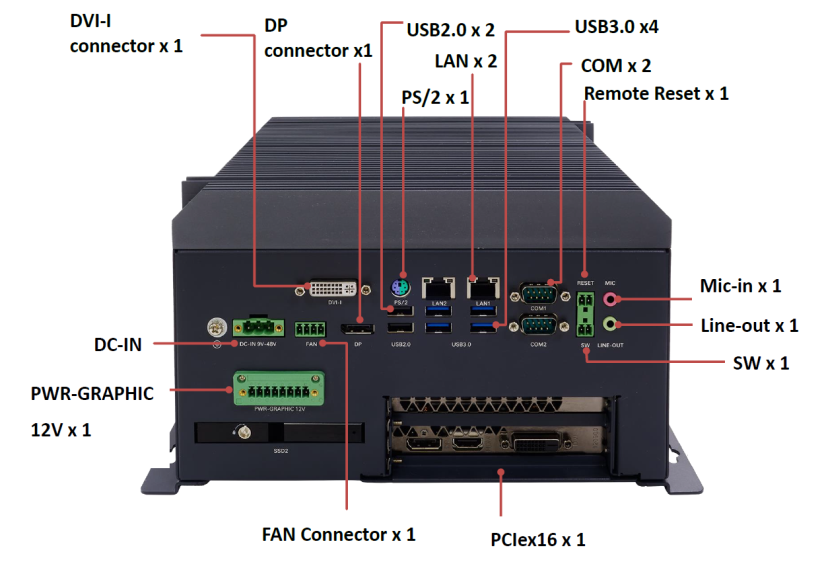 Intel® Core™ i7-9700TE Processor (up to 3.8 GHz, 8 cores)
| Thermal Point \ Testing Temp. | -40°C | -20°C | 0°C | +25°C | +50°C | +55°C | +60°C |
| --- | --- | --- | --- | --- | --- | --- | --- |
| CPU T-J | 0 | 17 | 16 | 58 | 68 | 75 | 91 |
| CPU Die | -10.4 | 8.8 | 11.8 | 38.6 | 71.9 | 76 | 81.5 |
| CPU Heat sink | -13.8 | 4.7 | 8.2 | 34.7 | 67.8 | 72 | 77.3 |
| Δ1=(TJ-Die) | 10.4 | 8.2 | 4.7 | 5.0 | 5.0 | 7.0 | 7.0 |
| Δ2=(Die-Heat Sink) | 3.4 | 4.1 | 4.7 | 5.0 | 5.0 | 6.0 | 5.0 |
| CPU Frequency (GHz) | 3.15 | 3.02 | 2.66 | 2.68 | 2.57 | 2.45 | 2.41 |
| GPU T-J |   |   | 19 | 57 | 71 | 82 | 88 |
| GPU Die |   |   | 31.5 | 62.6 | 85.5 | 87 | 89.3 |
| GPU Frequency (GHz) |   |   | 1.5 | 0.84 | 0.675 | 1.125 | 0.96 |
Intel® Core™ i7-8700T Processor (up to 2.4 GHz, 6 cores)
| Thermal Point \ Testing Temp. | -40°C | -20°C | 0°C | +25°C | +50°C | +55°C | +60°C |
| --- | --- | --- | --- | --- | --- | --- | --- |
| CPU T-J | 0 | 20 | 16 | 77 | 95 | 99 | 100 |
| CPU Die | -10 | 8.2 | 11.8 | 38.6 | 71.9 | 76 | 81.5 |
| CPU Heat sink | -15.7 | 2.2 | 8.2 | 34.7 | 67.8 | 72 | 77.3 |
| Δ1=(TJ-Die) | 10 | 11.8 | 4.7 | 5.0 | 5.0 | 7.0 | 7.0 |
| Δ2=(Die-Heat Sink) | 5.7 | 6 | 4.7 | 5.0 | 5.0 | 6.0 | 5.0 |
| CPU Frequency (GHz) | 2.83 | 2.85 | 2.66 | 2.97 | 2.26 | 2.18 | 2.19 |
Intel®i7-8700 Processor( up to 3.2 GHz,6 cores)
Description

System Top Sink

CPU Die

CPU T-j

CPU Freq

100%CPU Loading
with Graphic

50°C with hot air flow

71.4

68.8

100

3.1 GHz

100%CPU Loading
without Graphic

50°C with hot air flow

70.4

73.2

100

3.2 GHz
Description

System Top Sink

CPU Die

CPU T-j

CPU Freq

100% CPU Loading
with Graphic

60°C with hot air flow

76.8

81.5

100

2.99 GHz

100% CPU Loading
without Graphic

60°C with hot air flow

75

79.6

100

3.15 GHz
Description

System Top Sink

CPU Die

CPU T-j

CPU Freq

100% CPU Loading
with Graphic

50°C without air flow

78

81.1

100

3.05 GHz

100% CPU Loading
without Graphic

50°C without air flow

77

81.1

100

3.06 GHz