NVIDIA GeForce® RTX2060SUPER MXM 3.1 Graphic Module, supporting 4 Channel outputs, and 8GB GDDR6 High-Speed Memory
Powered by NVIDIA GeForce RTX 2060 Super 
NVIDIA CUDA technology with 2176 Cores
MXM 3.1 Type B
Support DirectX 12, OpenGL 4.6, Vulkan API
Support for 4 outputs
256-bit width, 8GB , GDDR6 High-Speed Memory
Power Consumption: 175W
Technical Profile
Specifications
Certification
GPU
I. Introduction
MXM Graphic Solutions
Perfectron's MXM modules are the compact, thinnest graphics module solution based on the industrial standard Mobile PCI Express Module (MXM) Version 3.1 specification, delivering the latest and cutting-edge GPU benefits for your embedded systems. Its superior graphics performance, GPU computing and video capabilities are the ideal solution for performance demanding systems such as digital signage, medical image, defense, aerospace applications, and AI computing.
NVIDIA CUDA Platform
Powered by NVIDIA, CUDA® is a parallel computing platform and programming model developed by NVIDIA for general computing on graphical processing units (GPUs). With CUDA, developers are able to dramatically speed up computing applications by harnessing the power of GPUs. In GPU-accelerated applications, the sequential part of the workload runs on the CPU – which is optimized for single-threaded performance – while the compute intensive portion of the application runs on thousands of GPU cores in parallel.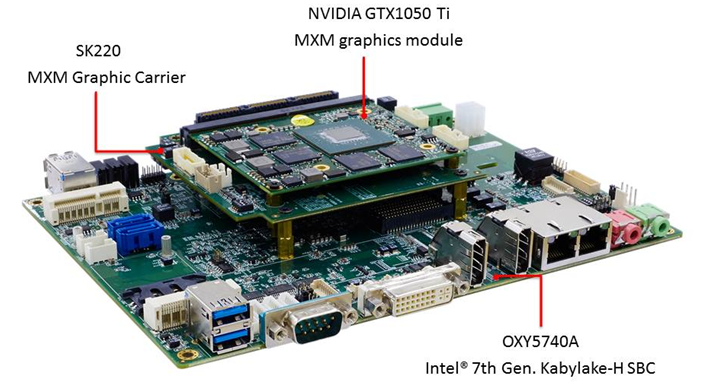 Perfectron's Computing Accelerating CPU Module 
Perfectron's high-performance GPU-based modules (OXY5740 - 7th Gen. EBX Platform) can provide exceptional processing power to applications which benefit from advanced parallel processing. Typical applications include image processing, video stabilization, filtering, terrain analytics, 3D visualization of Geospatial data, object recognition and tracking. The latest generation modules include tensor cores and other specialized circuitry which can be used for AI inference, where a model created by training a neural network can be used by a processing module in the field to analyze real world data.
II. GPU Roadmap
RXT2060 Super Diagram
III. Related Products

EBX Form factor
Intel® 7th Gen. Kabylake-H® Core™ i7-7820EQ processors  
Stackable with StackPC & FPE Expansion
Capable of connecting to various MXM GPU Module such as GTX-1660SUPER/GTX-1650 /GTX-1050Ti
Extended Temperature - 40°C to 85°C

2. SK513 (COM Express Type 6 carrier board)

COM Express Type 6 Support Up to Intel XEON E-2276ME, i7-9850H Processor
Standard MXM Type 3.1 Supporting NVIDIA GeForce® GPUs
PCI/104 Express Expansion Slot for Modular Open Structure
2 x VGA, 1 x LVDS, 4 x COM, 6 x USB, 2 x miniPCIe, 1 x M.2, 2 x SATA Slots
Extreme Temperature Support -40~+85 degree
9V-36V DC Input

3. SR800-X1 GPGPU Radar Subsystem

IP65 VMware GPGPU rugged workstation with NVIDIA NVIDIA 1050Ti CUDA 768/GTX 1650 CUDA896 /GTX 1660S CUDA1408 ) , Intel® Xeon® D-1577 Processor (16 Cores), 128GB DDR4 ECC RDIMM, MIL-DTL-38999 , MIL-STD 461/1275 Compliant

16 Cores INTEL ® Xeon® D-1577  VMware Support
128GB DDR4 ECC RDIM
Quadro P3000 MXM Support
Dual Removable 2.5" SSD Tray
MIL-STD 461/1275 18V~36V DC Input
M12/ DTL38999 Connector

 
Operating Temperature

 
 
0℃ to 50℃

Graphic Module Information

 
 
GPU
NVIDIA RTX 2060S
Process Technology
12 nm
GPU Clock (max.)
1530 MHz
CUDA Cores
2176 CUDA
MXM type
MXM 3.1, Type B
Bus Interface
PCI Express® 3.0 (X16)
DirectX® Capability
DirectX® 12
OpenGL™
OpenGL 4.6
OpenCL™
OpenCL 1.2
Memory Configuration, type
256-bit, 8 GB, GDDR6
G3D Mark Ref. Scores
12705
TDP
175W