Mini ITX form factor, Intel® Cedarview D2550 CPU on board, Extended Temperature. -40°C to 85°C
Intel® Cedarview D2550 CPU + Intel® NM10
Single/Dual channel 18/24-bit LVDS
Rich I/O interface with 10 COM, 7 USB, 2 LAN
Flexible expansion with 1 x mPCIe
16bit DIO (8 in/8 out)
9 ~24V wide voltage DC-in design
Extended operating temperature. -40°C to 85°C
Technical Profile
Specifications
CPU Performance
SSD Performance
Thermal Solution
Introduction

INS8321B is a Mini-ITX form factor industrial motherboard, designed with Intel® Cedarview D2550 CPU soldered onboard. Processor D2550 supports dual core 1.86 GHz, presenting only 10W extremely low power consumption with high performance. With processor soldered onboard can significantly enhance the resistance of vibration and shock. Extensive I/O interface with 10 COM ports and 16 bit DIO can increase a variety of possibility for device connect ability. Extended temperature operation from -40 to +85°C ensures unbeatable reliability and wide range DC-in 9 ~24V design can protect the board from damages caused by sudden surge of voltage. INS8321B is rugged SBC and expected to be a good solution for automation and transportation industry.

                                                      
Thermal solution for fanless system– the incorporation of two pure copper heat pipes and aluminum heat sink

Thermal design is the solution for the maximum reduction of heat. With upper passive aluminum heat sink and cooled aluminum enclosure is implemented to create an effective dissipation environment. With two pure high efficiency copper heat pipes plus aluminum heat sink to ensure maximum thermal efficiency. Copper vacuum Heat-Pipe has effective thermal conductivities that range from 5,000 W/m•K to 200,000 W/m•K to effectively transfer heat from the heat source to the heat sink. This advanced thermal solution enables system to operate smoothly under temperature range -40 to 80°C -without processor throttling.
Effective cooling solution for maximum heat dissipation

Perfectron implements unique cooling solution with the copper heat spreader and aluminum heat sink. To adopt the physical property of copper and aluminum, the copper heat spreader touches the heat source - processor and chipset and absorbs the heat rapidly, heat is then transferred to upper aluminum heat sink; the aluminum heat sink dissipates the heat into surrounding air promptly. The heat sink design with high and low shape to create temperature difference then produce airflow, the wave lines on the lateral side of heat sink can increase the dissipating interface up to 30 to 40%. Through above unique design could achieve maximum heat dissipation.
Installation Instruction

 

 

Procedure:

Stick thermal pad on CPU and chipset, and then place passive heat sink on thermal pad.

 

                

 

1.Thermal Pad
Thermal pad is aid the conduction of heat away from the component being cooled (such as CPU or chip) and into the heat sink.

The unit of Heat Transfer Coefficient for thermal pad is W/m.K. The higher the Heat Transfer Coefficient number is, the better thermal conductivity for thermal pad could reach. PERFECTRON adopts thermal pad with 17 W/m.K which is military standard level that can guarantee the maximum thermal conductivity between components and heat sink

 

 

 

 

 

 

2.Aluminum Passive Heat Sink
Heat sink is known for lowering the temperature by dissipating heat into the surrounding air. PERFECTRON implements aluminum heat sink instead of copper because aluminum can dissipate the heat more rapidly than copper due to metal characteristic

It contains 96 % of aluminum, 127 mm length, 48 mm height, and weighs 315 g
Consume shorter heat dissipating time owing to lower metal density
Better performance in heat dissipating

 

 

 

 

 

 

 

Operating Temp.

Can withstand extended temperature from -40 to 85°C

 
Operating Temp.

 

UT : -40°C to 85°C

 

System

 

CPU Type

Intel® Atom™ D2550 1.86GHz onboard

Chipset

Intel® NM10 Express Chipset (Intel® CG82NM10 PCH)

Memory Type

2 x 204-pin SO-DIMM DDR3 800/1066 MHz up to 4GB

BIOS

AMI® BIOS

Super I/O

IT8786E

Watchdog

1-255 sec. or 1-255 min. software programmable, can generate system reset

Expansion Slot

 

PCI slot

1 x 32bit support 33MHz

mSATA

1 x SSD storage compatible with PCIe Mini Card

Mini PCIe

1 for GEN2

Display

 

Chipset

Intel® PowerVR SGX545 Graphic core

Onboard VGA

Yes (Max. resolution 1920 x 1200 @ 60 Hz)

LVDS

Support 18/24-bits LVDS single/dual/channel

DP: 2560 x 1600 @ 60 Hz

eDP: 1920 x 1080 @ 60 Hz

Onboard DVI-D

Yes (Max. resolution 1920 x 1200 @ 60 Hz)

Dual Independent

Display Capability

VGA+DVI, VGA+LVDS, LVDS+DVI

Audio

 

Codec

Realtek ALC887

Ethernet

 

Chipset

2 x Intel® 82574L GbE LAN (support 10/100/1000 Mbps)

Disable LAN

through BIOS

Yes

WOL

Yes

Boot from LAN

Yes for PXE

Rear I/O

 

VGA

1 x 15-pin VGA connector (female)

DVI-D 

1 x 25-pin DVI-D connector (female)

Audio

Line-out, Mic-in

Ethernet

2 x RJ45

COM

1 x RS232/422/485 with 5V/12V selection (COM1)

1 x RS232 with 5V/12V selection (COM2)

 

Serial Signals

RS232: DCD-, RXD, TXD, DTR-, GND, DSR-, RTS-, CTS-

RS422: TX-, RX+, TX+, RX-, GND,

RS485: DATA-, DATA+, GND

USB

4 ports with 5V

I/O Interface

 

SATA

2 x SATAII (3 Gb/s)

USB

3 ports by pin header

COM

8 x COM ports

COM3~COM10 ports support RS232 with

5V/12V selectable by pin header (COM5 port supports RS232/422/485 with 5V/12V selectable)

PS/2

2 x 4-pin header

LVDS

2 x 15-pin connector

Fan

CPU/System fan connectors

Parallel Port

2 x 13-pin header

DIO

pin header (for cash drawer)

OS support list

 

Windows

Windows 7 x32、Windows 7 x64

Linux

Fedora 10、Fedora 14、Open SUSE 12.2、Debian 7.0.0

Mechanical and Environment

 

Form Factor

Mini-ITX Industrial MB

Power Type

9V to 24V DC-in

Dimension

170 x 170 mm (6.7" x 6.7" )

Operating Temp.

UT : -40°C to 85°C

Storage Temp.

-40°C to 85°C

Relative Humidity

10% to 90%, non-condensing

Certification

 

Vibration test

IEC 60068-2-64

Random Vibration test

Frequency: 5Hz to 500Hz

Acceleration: 3.0 g rms

Test Axis: X, Y, Z axis

Test Time: 30Min (Each axis)

Shock test

IEC 60068-2-27

Shock test

Wave form: Half Sine Wave

Acceleration: 100g

Duration Time: 6ms

MIL-STD-810G

Temperature Shock:

MIL-STD-810G Test Method 503.5 Temperature Shock Procedure I-C / Storage (Multi-cycle shocks from constant extreme temperature, Form 85℃ to -40℃, Three cycle)

 

High Temperature:

MIL-STD-810G Test Method 501.5 high Temp ( 96 hours @75℃ non-operating + 72 hours @ 75℃ operating )

 

Low Temperature:

MIL-STD-810G Test Method 502.5 Low Temp ( 96 hours @ -40℃ non-operating +72 hours @ -40℃ operating )
Test Result
Test Configuration
Thermal Measurement

PERFECTRON provides real lab testing figures to show how CPU performance is with each tailor made thermal kits as important references and design guide for system engineers. For system integration, the crucial challenge is the operation performance under high temperature, thus PERFECTRON conducts long time experiments to make sure the superior testing result for all critical missions. By revealing temperature at processor T junction, processor die and heat sink, PERFECTRON is able to analyse the thermal solution we designed achieves maximum efficacy and observe CPU performance. The high temperature testing takes 5 hours which at each temperature point we burn in INS8321B for one hour, from +50 to +85°C.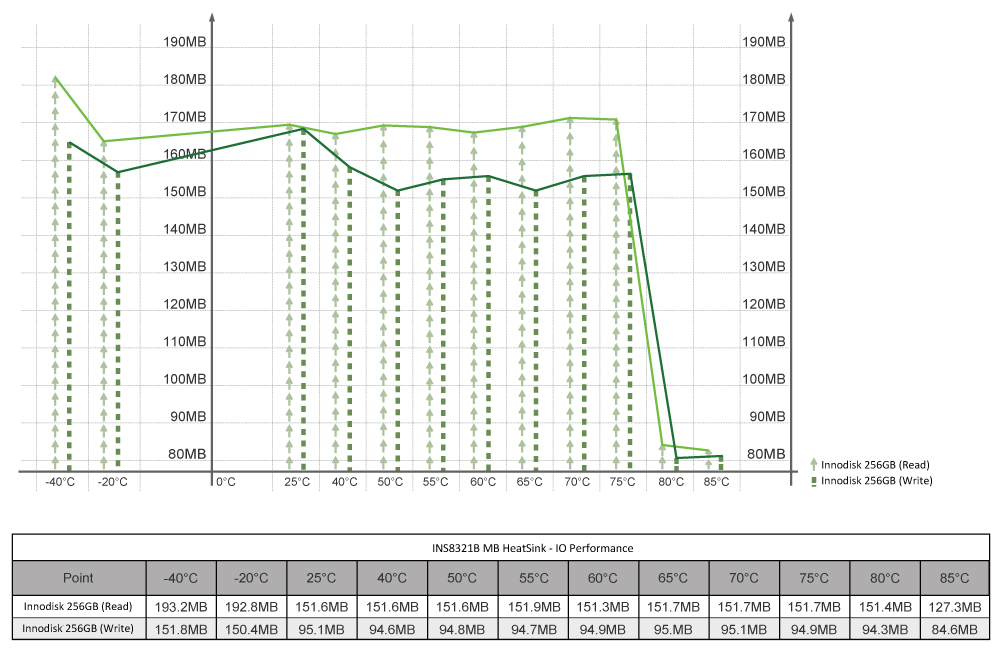 Related System — PER321A

PER321A is powered by Intel® Atom™ Cedar trail D2550 dual core processor soldering onboard which is a high-reliability Atom-based fanless rugged system. The system works perfectly under 70°C without processor throttling. PER321A features an abundance of connectors through its I/O interface; it supports two COM ports for RS232/422/485 and another four for RS232, two RJ45 Ethernet LAN ports, four USB 2.0 on rear I/O and two by pin header, plus two mPCIe or one mSATA, all impressive capabilities provided for saving R&D resource during system integration or application implementation. PER321A applied copper vacuum tube liquid-vapors and accompanied by the best ratio of heat dissipation volume in the industry, PER321A still operates smoothly with 1.86GHz clock rate speed under 70°C harsh environment. With its durability and anti-vibration resistance, it perfectly interprets a highly reliable solution for automatic optical inspection, industrial automation, access control, data acquisition, and digital signage.

              

 
System main board: Mini-ITX SBC INS8321B

(1) Intel D2550 CPU soldering onboard

PER321A is based on Mini-ITX industrial motherboard, designed with D2550 processor soldering on board. With processor soldering on board can enhance the resistance of shock and vibration to allow product operates under every possible condition. With processor solder on board would lower resistance and inductance at the connection enhance effective transmission that could guarantee better and more high frequency performance for the system.

(2)High scalability and flexibility

PER321A is an industrial-grade system designed with high scalability and flexibility. Based on different necessity, COM ports can expand from six to ten that allow users to apply more specialized and custom-built devices. 16-bit DIO can meet a variety of industrial applications requirement which including the control of switches, relays, actuators, fans, lights, and motors that enable PER321A to achieve superior performance in industrial control and manufacturing test systems such as factory automation, embedded machine control, and production line verification.

(3)Wide Range DC input

For certain application such like transportation and military always challenge the risk of unstable power that might cause damage to the system. Wide range DC input becomes an indispensable element for those applications. PER321A support 9V~ 24V DC-in to protect system from damage caused by sudden surge or peak voltage. This feature guarantee the system increasing migration path flexible and eliminate redesign of existing power architecture

(4)Three-stage thermal design

Industrial application solutions usually demand to operate in extreme conditions such as high/low temperatures, thermal shock and high humidity. Thus the extended temperature solution becomes extremely significant. PERFECTRON implements three-stage thermal design for PER321A to allow system survive under temperature range -40 to +70°C . The three-stage thermal design is using aluminum heat spreader to absorb heat directly from heat sources, then use heat pipe to transfer heat to aluminum heat sink to surrounding air. The copper heat pipe is the key factor among the whole thermal design. The heat conductivity of heat pipe can reach up to 5000, which is 12 times better than copper heat spreader. With such advanced thermal solution enables PER321A to operate in a torrid environment without processor throttling.

 

Supports Intel® Atom™ D2550 CPU
2X DDR3 SO-DIMM up to 4 GB
2X Mini PCIe slot (1X mSATA co-lay)
Dual GbE LAN ports
Support 1X 2.5"SATA HDD/SSD
6X COM ports
6X USB ports
9V~24V DC-in
Supports extended temp. -40 to +70°C
Advanced cooling solution for better heat dissipation

To meet the demands of customer's extended temperature requirements, the whole thermal solution of INS8335C simultaneously embraces two heat transfer methods, heat conduction and heat convection. For heat conduction, the solution utilizes a copper heat spreader on the bottom layer which directly contact with the processor and chipset. Heat is then transferred to upper aluminum heat sink. Regarding to heat convection, the temperature differences caused by high and low fin design forms a mild airflow that could bring away heat efficiently. Fan can also be an auxiliary by placing an appropriate sized fan on top of the heat sink. Breakdown drawing is provided as below.

   

Thermal Pad
After countless experiments, PERFECTRON's experienced engineer team has learned valuable lessons about the best thickness of thermal pad from failures.

Precision design of thermal pad: the gap between CPU die and heat sink should be less than 1mm.

 

Aluminum Heat Spreader

96 % purity of aluminum, 26 mm high and weigh 340 g 

 

Pure Copper Heat Pipe
Heat pipe transfers heat from the heat sources to the heat sink over relatively long distance. Two-phase heat transfer involves the liquid-vapor phase change of a working fluid. 

The longer ones are 365mm in length, 99.9% purity of copper. 
The shorter ones are 157mm in length, 99.9% purity of copper. 
High heat conductivity efficiency up to 5000.

 

 

Aluminum heat sink on dual side chassis

96 % of aluminum, 24 mm height and weighs 394 g