Intel® QM87 EBX SBC, Core i7-4700EQ CPU Haswell & SSD Soldering Onboard, Stackable with StackPC & FPE Expansion, Extended Temperature - 40°C to 85°C
Intel® Haswell BGA CPU + Intel QM87 PCH
Stackable expansions: 1 x PCIe_16 (FPE), 4 x PCIe_1 (PCIe/104)
Onboard XR-DIMM up to 8GB
Onboard μSSD, compliant with JEDEC MO-276
Multi displays: 2 x DP, DVI-I, LVDS
Rich I/O: 6 COM, 6 USB, 2 LAN, 2 SATAIII
Flexible expansion with 2 x Full-size miniPCIe (one co-lay with mSATA)
Onboard SIM Card slot for 3.5G connectivity
Extended operating temperature. -40°C to 85°C
Technical Profile
Specifications
CPU Performance
SSD Performance
Thermal Solution
Introduction

 

OXY5737A, a powerful rugged EBX SBC is driven by Intel® 4th generation Haswell CPU and chipset soldering onboard. Processor i7-4700EQ plus Intel® QM87 chipset supports clock speed 2.4GHz, up to 3.4GHz. Quad cores, turbo up to 8 cores to cope with enormous data computing. The powerful combination makes the SBC with high computing power for multi-tasking while reducing idle power consumption. OXY5737A is regarded as a greedy SBC that highly integrates ample I/O on one board to cater various applications usage. Mission-critical applications can take the advantages of key components soldering onboard and extended operating temperature from -40 to 85°C to ensure ultimate durability, utmost resistance to shock & vibration. OXY5737A is truly a rugged SBC ideal for defense, aviation, high-end Automation and heavy-duty railway applications.

 

Thermal solution for fanless system design

Heat sinks are used to cool down device temperature by dissipating heat into surrounding air. PERFECTRON designs tailor-made heat sink for each motherboard. Special high and low fin design forms a wind-flow to reduce thermal resistance. Moreover, cross section wave line on the interface increases up to 30-40% air contact area. Combining these two features, thermal performance leverages to utmost. OXY5737A has the special design of two budges that are tailor-made based on the heat sources placement of CPU and PCH. With customized heat sink, OXY5737A ensures high reliability and stability while working under wide range temperature from -40 up to 85°C

 

Rich I/O for flexibility in I/O configurations

OXY5737A embraces rich I/O that provides embedded system developers diverse flexibility in I/O configurations to meet different embedded applications. The rich I/O features multiple displays, 2 x DP and DVI-I display connectivity ports with dual channel 24-bit LVDS. The outstanding embedded board supports stackable expansion of 1 x PCIe_16 (FPE), 4 x PCIe_1 (PCIe/104) which enable a cable-free board to build an extreme rugged and compact system with more expansion flexibility. This feature-rich board also includes four RS232, two RS232/422/485, six USB ports, two Gigabit LANs, two SATAIII, all these can help system integrators to develop solutions quickly. Viewing the popularity of 3G and touch panel usage, OXY5737A carries onboard SIM Card slot for 3.5G connectivity and onboard Pen Mount 6000 resistive touch controller for connecting touch panel.

 

Stunning resistance of shock and vibration

 

 

OXY5737A has key components soldered onboard to eliminate risk of harm caused by vibration. It not only supports Intel CPU onboard but also memory and storage onboard which drastically enhance the resistance of vibration and shock. The stackable expansion slots, FPE (PCIe_16) and StackPC (PCIe/104) enable to expand more functions by adding on extra cards. The cable-free operation remove the concern about loosen cable connections caused by shock & vibration. Combining critical components soldering onboard and solid PCIe/104 connection, it is also compliant to MIL-STD 810G standard, can withstand 5g vibration, 100g single shocks and 50g multiple shocks.
Installation Instruction

Procedure: Stick thermal pad on CPU and chipset, and then simply put passive heat sink on thermal pad.

Aluminum specially design with two budges on the bottom which are used to contact with CPU and chipset directly to absorb heat efficiently from the bottom layer, and then spread the collected heat to upper aluminum heat sink. Aluminum is known as well heat convection regarding to its metal characteristic. After transferring heat from bottom layer to heat sink, High and low fin design plus wave line create airflow to dissipate heat.

Copper Heat Spreader
The copper heat spreader directly touches heat sources from OXY5737A. •99.9 % purity of copper, weighs 81.9 g and consumes 79.71 cm •23.4 mm height to fulfill the gap between OXY5737A and heat sink enclosure •Nickel plated to prevent corrosion and rust after long-term use •Tailor-made two bulges on heat spreader correspond to the placement of CPU and chipset on OXY5737A.

Aluminum Passive Heat Sink

Heat sink is known for lowering the temperature by dissipating heat into the surrounding air.
•It contains 96 % of aluminum, 31 mm height and weighs 381 g
•Tailor-made two bulges on the bottom of heat sink correspond to the placement of CPU and
PCH on OXY5737A
•High and low fin design plus wave line increase contact surface up to 30-40% and create airflow. •Consume shorter heat dissipating time owing to lower metal density •Better performance in heat dissipating

 

 

Operating Temp.

Can with stand extended temperature from -40 to 85°C

 
Operating Temp.

 

UT : -40°C to 85°C

 

System

 

CPU Type

Intel® Haswell Core™ i7/i5/i3, BGA type

Intel® Core i7-4700EQ (4C x 3.4/2.4 GHz), 6M Cache (47W/37W)

Intel® Core i5-4400E (2C x 3.3/2.7 GHz), 3M Cache (37W)

Intel® Celeron 2000E (2C x 2.2 GHz), 2M Cache (37W)

Chipset

Intel® Haswel QM87 PCH

Memory Type

1 x DDR3 1600 Swissbit XR-DIMM up to 8 GB with ECC

BIOS

AMI®UEFI BIOS

Super I/O

ITE8786

Watchdog

1-255 sec. or 1-255 min. software programmable, can generate system reset

Expansion Slot

2 x mPCIe (1 x SIM card, one colay with mSATA) for Gen2

Display

 

Chipset

Integrated GFX in Haswell processor

DVI-I

Yes (Max. resolution 2048 x 1536)

LVDS

Dual channel 24-bit LVDS

Display Type

2 x DP, LVDS, DVI-I (DVI-D+VGA)

Audio

 

Codec

Realtek ALC887 High Definition Audio Codec

Ethernet

 

Chipset

Intel® I210IT & i217LM GbE (support 10/100/1000 Mbps for 2 x RJ45 ports)

WOL

Yes

Boot from LAN

Yes for PXE

External I/O

 

Display Port

2 x 20-pin DP connector (female)

DVI-I

1 x 29-pin DVI-D connector (female)

Ethernet

2 x RJ45 (support 10/100/1000 Mbps for x2 RJ45 ports)

COM

1 x RS232/422/485 with 5V/12V selectable

Serial Signals

RS232: DCD-, RXD, TXD, DTR-, GND, DSR-, RTS-, CTS-

RS422: TX-, RX+, TX+, RX-, GND

RS485: DATA-, DATA+, GND

USB

4 x USB 3.0

Audio

1 x MIC, 1 x Line out

Power Connector

1 (Terminal Block co-lay 4-pin connector with lock)

Internal I/O

 

Front Panel

1 (2 x 5-pin)

Smart Fan

1 x CPU Fan, 1 x System Fan

Power Connector

2 (1 x 4-pin/ 2 x 2-pin)

SATA

2 x SATAIII (6Gb/s)

USB

2 x USB 2.0 by pin header

COM

5 x COM ports

4 x RS232, 1 x RS232/422/485, all with 5V/12V selectable

SIM card holder

1

DIO

2 x 10-pin, 8 in/8 out with isolation

LVDS

2 x 15-pin

Power Requirements

Input Voltage

9V to 36 VDC (4-pin terminal block for V+, V+, V-, V-)

 

With No Load on 4USB ports

4A@9VDC, 40W

1.6A@24VDC, 40W

1.1A@36VDC, 40W

 

With Full Load on 4USB Ports

5A@9VDC, 45W

1.875A@24VDC, 45W

1.25A@36VDC, 45W

OS support list

Windows :

Windows 7 x32/x64、Windows 8 x32/x64、Windows 8.1 x32/x64、Windows 10 x32/x64

Linux:

Fedora 20、Ubuntu 13.04、Ubuntu 13.10、Ubuntu 14.04

Mechanical and Environment

 

Form Factor

EBX

Power type

'9V~36V DC-in, AT/ATX mode supports with power delay on/off

Dimension

203 x 146 mm (5.75" x 8")

Operating Temp.

UT : -40 to 85°C

Storage Temp.

-40 to 85°C

Relative Humidity

10% to 90%, non-condensing

TEST STANDARD

 

MIL-STD-810G Test

Method 507.5, Procedure II (Temperature & Humidity)

Method 516.6 Shock-Procedure V Non-Operating (Mechanical Shock)

Method 516.6 Shock-Procedure I Operating (Mechanical Shock)

Method 514.6 Vibration Category 24/Non-Operating (Category 20 & 24, Vibration)

Method 514.6 Vibration Category 20/Operating (Category 20 & 24, Vibration)

Method 501.5, Procedure I (Storage/High Temperature)

Method 501.5, Procedure II (Operation/High Temperature)

Method 502.5, Procedure I (Storage/Low Temperature)

Method 502.5, Procedure II (Operation/Low Temperature)

Method 503.5 Temperature Shock Procedure I-C / Storage (Multi-cycle shocks from constant extreme temperature, Form 85℃ to -40℃, Three cycle) (Temperature shock)
The OXY5737A offers highly effectively heat conductive and heat convective thermal solutions to meet the demands of customers' extended temperature requirements. The heat conductive solutions uses an aluminum flat mass to place in direct contact with the processor and chipset, the heat from chips then transfers it to the case of the system. In addition, the convective thermal solutions introduce airflow directed to move across the surface of a fin style heatsink placed on top of the processor and chipset. This can be done with the aid of an appropriately sized fan placed in top of the fin style heatsink. Alternately, enclosure airflow can be routed to flow across a fin style heatsink.
Test Result
Test Configuration
Thermal Measurement

PERFECTRON provides real lab testing figures to show how CPU performance is with each tailor made thermal kits as important references and design guide for system engineers. For system integration, the crucial challenge is the operation performance under high temperature, thus PERFECTRON conducts long time experiments to make sure the superior testing result for all critical missions. By revealing temperature at processor T junction, processor die and heat sink, PERFECTRON is able to analyse the thermal solution we designed achieves maximum efficacy and observe CPU performance. The high temperature testing takes 5 hours which at each temperature point we burn in OXY5737A-ET-i7-4700EQ for one hour, from +50 to +85°C.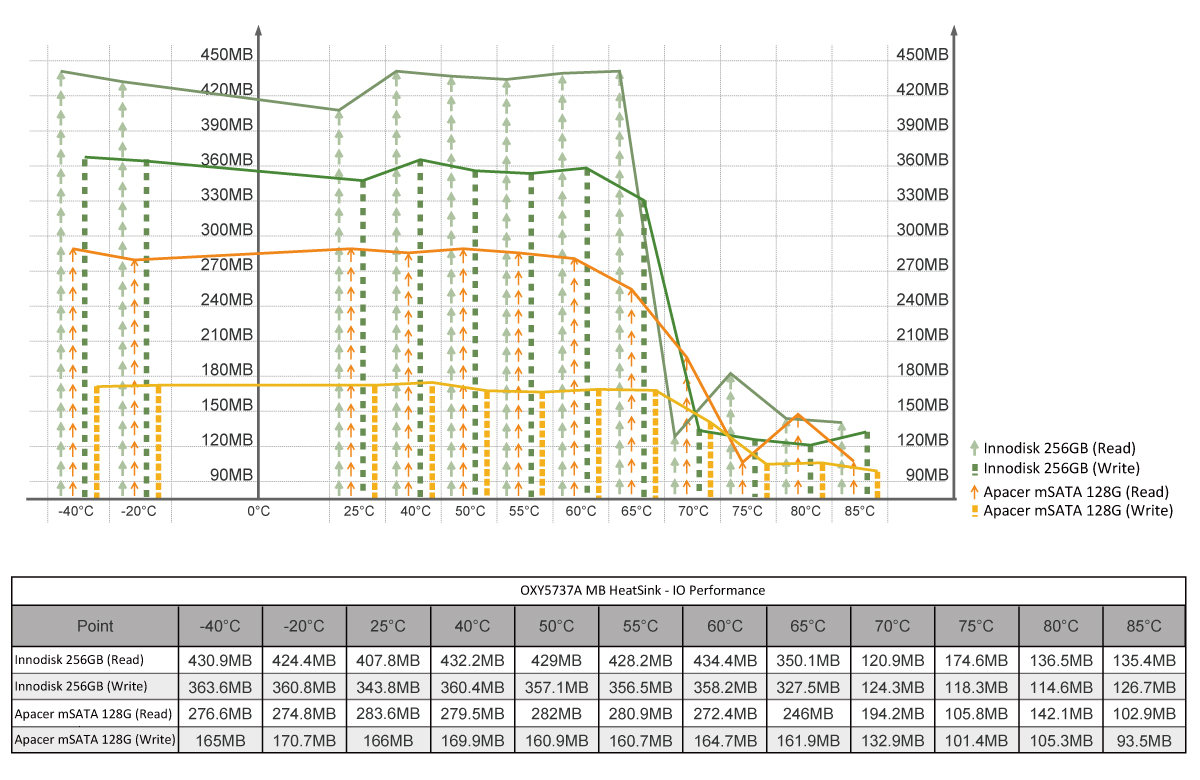 Related System - EBX Extreme Fanless Rugged System SR100

The SR100 based on Intel® Haswell QM87 chipset, is powered by Intel® 4th generation Core™ i7/i5/i3 processor onboard. The SR100 can operate effectively in harsh environment under temp range from -40 to 70°C. SR100 is based on EBX form factor which features with stackable PCIe/104 and FPE expansions, on board Nano SATA(3.0)16/32 Giga Byte SSD and XR-DIMM up to 8GB. It supports triple-display like 2 DP and 1 DVI-I, 2 GIGA LAN port, 4 USB (2 x 2.0, 2 x 3.0), 1 COM port and 2 mPCIe Expansion slots (one co-layout with mSATA). SR100 supplies wide power voltage from 9 to 36V DC-in. 
SR100 main board: EBX SBC-OXY5737A

(1) Intel ® Core i7 CPU soldering onboard

SR100 is based on EBX SBC—OXY5737A, powered by Intel® i7-4700EQ quad core processor plus QM87 chipset soldered onboard. With CPU soldering onboard, there is less conduction of heat and high density interconnection between the motherboard and the components, which reduces the MB from the crisis of overheating. Apart from overheating, soldering onboard also provides the best level of shock and vibration protection, removing the unnecessary concern about poor connection that CPU socket type may bring.

 

(2) Stackable with PCIe/104 & FPE expansion

Known for application ruggedness, reliability, sealing properties, and compactness characteristics, PCIe/104 & FPE connectors are ideal for high-end electronic equipment and use in extreme environment conditions. With easy connect/disconnect and blind mating, SR100 has a functional life greater than 10,000 mating cycles. The PCIe/104 connector on SR100 that specifies standard of SAMTEC Q2™ QMS/QFS series in a three bank (156-pin) orientation for module stacking. SAMTEC designed the QMS/QFS series with a 15.24 mm stack height for top and bottom board stacking. And the Q2™ has triple the wipe of many high speed mezzanine interconnects making SR100 the best choice for tough environmental conditions.

 

(3) Wide Range DC input

For train recording usage, device interfaces are mostly go from LAN ports and COM ports. To add two more Ethernet ports, RC200 adds on LAN card by mPCIe interface, which is developed by PERFECTRON—MT321. Sufficient 10/100/1000 mbps Ethernet connections enable to install more complete surveillance system in vehicle as well as build up interconnection to manage carriage-to-carriage communications, which effectively increase efficiency and safety. It is noteworthy that two out of four connections apply locking M12 connectors to minimize the chance of disconnection caused by shock & vibration during the railway journey. For more I/O support, RC200 provides total 4 COM ports, optional 2 COM ports with isolation. With isolation function, it can provide secured power protection from sudden power surge damaging the controller.

 

(4) Elaborate thermal design

For intellectual video wall and defense control room applications, the system is always working 24/7 nonstop operation which makes the system always keeps at high temperatures. Therefore the importance of extended operating temperature is undoubted. PERFECTRON experts develop a brand new thermal design which involves segmentation type thermal design, integrating solidly with heat pipe, heat spreader and heat sink which allows SR100 to survive from -40 to +75°C. The thermal solution flexibly maximize the metal characteristic, using copper heat spreader to absorb heat directly from heat sources, then using heat pipe to transfer heat to aluminum heat sink. The copper heat pipe is the key factor among the whole thermal design. The heat conductivity coefficient of heat pipe can be up to 5000, nearly 12 times better than copper heat spreader. With a perfect combination of copper plus aluminum thermal kit which efficiently manage the heat dissipation up to 75°C.

 
Effective cooling solution for maximum heat dissipation:

PERFECTRON implements unique cooling solution with copper heat spreader, pure copper heat pipe and aluminum heat sink for maximum heat dissipation. With the aluminum heat sink enclosure allows dual-sided heat dissipation. We especially adopt the physical property of copper and aluminum, the copper heat spreader touches the heat source - processor and chipset and absorbs the heat rapidly, the heat then transfer to heat pipe; heat pipe is two-phase heat transfer involves the liquid-vapor phase change of a working fluid, the aluminum heat sink dissipates the heat into surrounding air promptly. With the benefits of fanless design, SR100 can ensure high reliability and stability while working under wide range temperature from -40 up to 70°C

Patent Designed Aluminum Heat Sink
The heat sink is made by heat radiating material, which is aim to lowering the temperature by dissipating heat into the surrounding air. 96 % of aluminum, 21 mm height and weighs 1039 g

Pure Copper Heat Pipe
The heat pipes are embedded in the heat sink to ensure 100% tight integration for superior heat dissipation. Copper heat pipe transfers heat from the heat sources (e.g. CPU, chipset) to the heat sink over relatively long distance. Two-phase heat transfer involves the liquid-vapor phase change of a working fluid.

•8.0 mm diameter heat pipe, 99.9% purity of copper

•High heat conductivity coefficient up to 5000

 

 

Copper Heat spreader
Copper heat spreader directly touches the power source area, which can absorb heat rapidly and transfer to heat pipe and allow the high efficiency heat pipe further bring out heat to upper heat sink enclosure

•99.9% purity of copper, weigh 470 g

 

OXY5737A

 

 

 

Copper Heat spreader
Copper heat spreader directly touches the heat source- processor and chipset, which absorb heat rapidly and transfer to heat pipe.

•99.9% purity of copper, weigh 81.9 g and consume 79.71 cm

•23.4mm height to fulfill the gap between mainboard and heatsink enclosure