Intel® Ivy Bridge QM77 with Ivy Bridge core i7/i5/i3 Processor Fanless Rugged System, 9V to 24V DC-in, Extended Temperature. -40°C to 70°C
Intel® Ivy Bridge CPU + Intel QM77 PCH
Multi display: VGA, DVI, HDMI
Rich I/O interface with 5 COM, 8 USB, 2 LAN
2 x 2.5" SATA HDD/SSD & CF-SATA Socket
Flexible expansion with 1 x miniPCIe
2 x RJ45 for Ethernet connection
9 – 24V wide voltage DC-in design
Extended operating temperature. -40°C to 70°C
Technical Profile
Specifications
CPU Performance
SSD Performance
Thermal Solution
Introduction

PER335A is a system of high performance and durability. Powered by Perfectron's INS8335A high performance motherboard, PER335A can thrive at +70℃ without processor throttling and continually presents superior 2.3 GHz clock speed. 8 bit DIO can meet the needs of various different applications, such as automation, medical, surveillance, transportation and military. Wide range DC input design from 9V to 24V can protect the system from sudden current fluctuation. For applications that require extreme resistance to shock and vibration, PER335A has passed IEC 60068-2-64& IEC 60068-2-27 vibration and shock tests. In an effort to permanently vanquish the malfunction due to crash and collision, PER335A is equipped with four rubber foot stands at the front side to prevent possible damages to I/O and power switch. With industrial grade handles assembled on two sides of the system, easy installation and utmost mobility are warranted.

 




Integrated thermal solution – the incorporation of four pure copper heat pipes and an copper heat sink

INS8335A, with its dynamic 4-core 45W core i7-3610QE processor, demands an equal high level thermal solution. To achieve maximum heat dissipation, the design and implementation of heat pipes is the golden key. In this case, a copper heat sink and passively cooled enclosure is implemented to establish an effective dissipation environment. The structure of four pure copper heat pipes is to ensure supreme thermal efficiency. The heat pipes are capable of prompt dissipation of the heat generated by the CPU's inner core while it's computing. According to Perfectron's testing result, each pure copper heat pipe has the ability to dissipate 9w of heat. The combination of four heat pipes pushes the dissipation ability to a new level. Our tailor-made, precision-aimed integral structural heat sink and embedded heat pipes constitute an excellent fanless thermal solution. When the CPU hits 100% full potency, the implementation of four 6mm (minimum) pure copper heat pipes can keep it running at full speed – 2.3 Ghz!
Effective cooling devices for maximum heat dissipation

Perfectron's unique heat sink and heat pipe are designed with precision. Each of the key heat-dissipating components is tailor-made in accordance with different interior and exterior structure. Unlike traditional solutions that utilize aluminum as the dissipating media for CPU and fin. We insist on incorporating 99% pure copper heat spreader, which is eight times higher in density than aluminum. Our tailor-made pure copper heat spreader is treated with the most precise CNC technology, cutting four 6.1mm wide track so that the 6mm wide heat pipes can fit seamlessly. Compared with conventional solid heat conductors, such as aluminum, copper, granite, and graphite, of which thermal conductivity ranges from only 250 W/m•K to 1,500 W/m•K, Perfectorn's effective heat pipe design, with impressively high thermal conductivity (5000 W/m•K to 200000 W/m•K) that is 40 times higher than standard aluminum, is guaranteed to charge the system to the maximum turbo speed with minimum overall impact.

Installation Instruction

Procedure: The thermal pad is first placed directly on top of the CPU die to create a tight connection between the two. The custom made heat spreader, with four semi-circle trails precisely CNC milled, houses the four pure copper heat pipes securely. The top layer is a flat aluminum heat sink that can achieve the most effective heat dissipation solution.
System main board: Mini-ITX SBC INS8335A

1.Ever powerful Intel Core i7 CPU Rugged system demands an even stronger heart to pump it through all types of tough applications. Powered intel i7 CPU, both the computing power and the rugged ability are tightly secured. With Turbo Boost Technology, the computing power is even more mighty and robust. 2.Ergonomic sturdy design – Handles &Foot Sands By placing two industrial grade, extremely reliable handles on the side, the system can be installed and moved with ease. For operations that require mobility and flexibility, the handle design helps to establish a convenient setting. Robust handles also help to form a sturdier framework. Four rubber foot stands are installed in the front to protect front I/O and power switch from collision. The foot stands can absorb the vibration and 3. Comprehensive thermal design PER335A incorporates four pure copper heat pipes and a copper & aluminum passive heat spreader. On the two sides of the system are aluminum heat sinks to push the dissipation ability to a complete new level. 4. Supreme resistance to shock & vibration (IEC compliant) The ability to withstand high level of shock and vibration is guaranteed through EC 60068-2-64& IEC 60068-2-27 vibration and shock tests.

Supports Intel® 22nm Ivy Bridge Processor socket Type i7i5/i3
2 x DDR3 SO-DIMM up to 16 GB
Supports 2.5" SATA HDD/SSD & CF-SATA socket
1 x VGA, 1 x DVI-D, 1 x HDMI
Dual GbE LAN ports
2 x USB 3.0/ 4 x USB 2.0
5 x COM ports (2 x RS232/422/485, 3 x RS232)
Supports wide range power input 9V~24V DC-in (By terminal block)
Supports extended temp. -40°C to 70°C

​​​​​

 

 
Operating Temp.

-40°C to 70°C

System

CPU Type

Intel® 22nm Ivy Bridge Processor (Mobile) socket (rPGA988) Core™ i7-3610QE 2.3 GHz (6M Cache, 45W)

Core™ i5-3610ME 2.7 GHz (3M Cache, 35W)

Core™ i3-3120ME 2.4 GHz (3M Cache, 35W)

Chipset

Intel® QM77

Ethernet chipset

Intel® 82579LM & 82574IT GbE

Memory

2 x 204-pin SO-DIMM support up channel DDR3 1333/1600, Non-E to 16 GB dual CC

Expansion Slot

1 x Mini-PCIe

Storage Device

2 x Intel I210-IT Gigabit Ethernet 1 x Intel 82579LM Gigabit Ethernet 1 x Intel 82574L Gigabit Ethernet

Front I/O

Power Button

Yes

Power LED

Yes

HDD LED

Yes

COM

2 x RS232/with 5V/12V selectable

1 x RS232 1 x RS232/422/485

USB

4 x USB 2.0

Rear I/O

VGA

1

DVI-D

1

HDMI

1

Ethernet

2 x RJ45

Audio

Mic-in, Line-in, Line-out

COM

1x RS232/422/485 with 5V/12V selectable

USB

4 x USB 3.0

Antenna

Reserved two antenna holes

Power Input

9V to 24V DC-in (by terminal block)

Mechanical and Environment

Power Requirement

9V to 24V DC-in

Dimension

(W x H x D)

370 x 77 x 240 mm

(14.6" x 3.0" x 9.4")

Operating Temp.

-40°C to 70°C

Storage Temp

-20°C to 80°C

Relative Humidity

10% to 90%, non-condensing
Test Result

Test Configuration

Device
 Configuration
 Manufacturer
 Part Number
 CPU

 Intel® Core i7-3610QE 2.3GHz

 Intel
 i7-3610QE
 PCH
 Intel® QM77 Express Chipset
 Intel
 QM77
 Memory1
 INNODISK SODIMM 4GB DDR3 1333 M3SN-4GMJDI09-D
 INNODISK
 M3SN-4GMJDI09-D
 Memory2
 INNODISK SODIMM 4GB DDR3 1333 M3SN-4GMJDI09-D
 INNODISK
 M3SN-4GMJDI09-D
 port1 SATAIII
 Innodisk 2.5" SATA SSD 3MG2-P 64GB
 Innodisk
 DES25-64GD08SC1QC-D26
 USB3 ~ USB4
 Passmark Loopback Plugs for USB 3.0
 
 
 LAN1
 Intel® 82579LM GbE LAN
 Intel
 82579LM
 LAN2
 Intel® 82574IT GbE LAN
 Intel
 82574IT
 Test Software
 Burnin test v6.0、iperf、AS SSD Benchmark、Intel
 Extreme Tuning Utility 4.3.0.11
 
 
 Chamber
 KSON THS-b4t-150 Chipeng SMO-3
 KSON Chipeng
 THS-b4t-150 SMO-3
Thermal Measurement

PERFECTRON provides real lab testing figures to show how CPU performance is with each tailor made thermal kits as important references and design guide for system engineers. For system integration, the crucial challenge is the operation performance under high temperature, thus PERFECTRON conducts long time experiments to make sure the superior testing result for all critical missions. By revealing temperature at processor T junction, processor die and heat sink, PERFECTRON is able to analyse the thermal solution we designed achieves maximum efficacy and observe CPU performance. The high temperature testing takes 5 hours which at each temperature point we burn in PER335A-ET-i7-4700EQ for one hour, from 50°C to 85°C.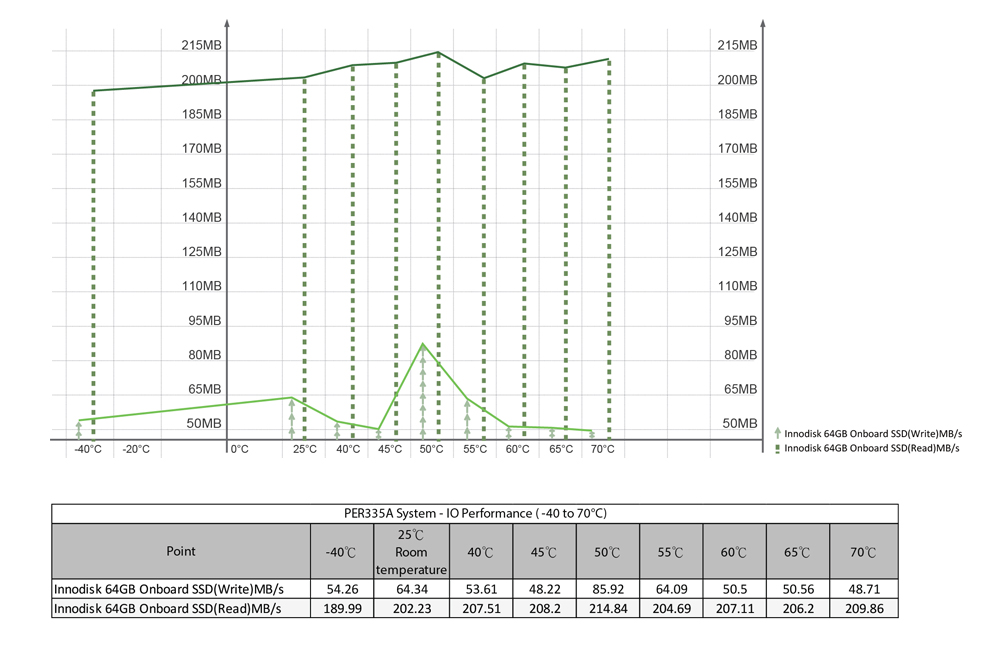 Effective cooling solution for maximum heat dissipation:

PERFECTRON implements unique cooling solution with copper heat spreader, pure copper heat pipe and aluminum heat sink for maximum heat dissipation. With the aluminum heat sink enclosure allows dual-sided heat dissipation. We especially adopt the physical property of copper and aluminum, the copper heat spreader touches the heat source - processor and chipset and absorbs the heat rapidly, the heat then transfer to heat pipe; heat pipe is two-phase heat transfer involves the liquid-vapor phase change of a working fluid, the aluminum heat sink dissipates the heat into surrounding air promptly. With the benefits of fanless design, PER335A can ensure high reliability and stability while working under wide range temperature from -40 up to 70°C.

 

Thermal Pad
After countless experiments, PERFECTRON's experienced engineer team has learned valuable lessons about the perfect thickness of thermal pad from failures.

 •Precise design of thermal pad: the gap between CPU die and heat sink should be less than

 1mm.

Copper & Aluminum Heat Spreader
 •The outer layer contains 96% of aluminum, the height is 23.5mm and it weighs 142g.

 •The inner layer contains 99.9% of copper, the height is 23.5mm and it weighs 173g.

 

Pure Copper Heat Pipe
Heat pipe transfers heat from the heat sources to the heat sink over relatively long distance.Two-phase heat transfer involves the liquid-vapor phase change of a working fluid.

 •The longer ones are 365mm in length, 99.9% purity of copper.

 •The shorter ones are 157mm in length, 99.9% purity of copper.

 • High heat conductivity efficiency up to 5000.

 

Dual Sided Aluminum Heat Sink

 •The heat sink each weighs 650g, and the height is 3.8cm

 •The heat conducted by the heat sink will be dissipated by the aluminum heat sink placed on
the two sides.

 • Aluminum has higher efficiency in heat dissipation.